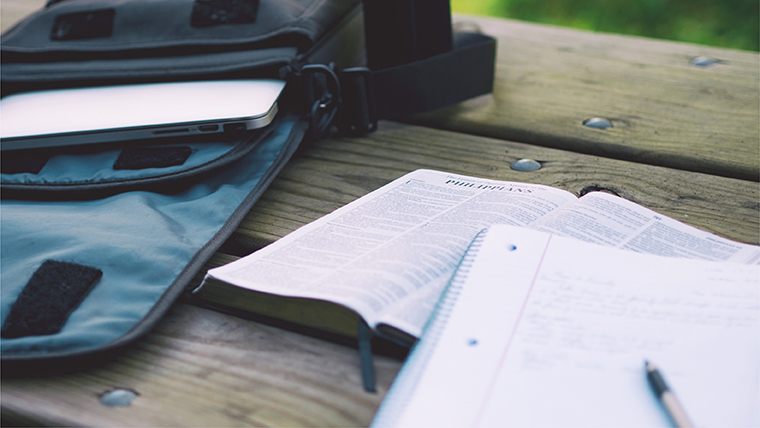 Journaling as a Tool in Sanctification
Sanctification is the process of repenting of our sin to look more like Christ. It's the process of being made holy, as our God is holy.
When was the last time you took a long hard look at your sin? When was the last time you had an honest evaluation of yourself? How long has it been since you've looked objectively at your sin patterns, rather than just responding subjectively? If you're anything like me, then the answer is "it's been a while." There are times in my life when I feel like I've allowed my sanctification to grow stale by being complacent. 1 Peter provided me with a good wake-up call this past month and I'd like to share it with you.
Peter tells us just how serious the battle for sin can be:
"Beloved, I urge you as sojourners and exiles to abstain from the passions of the flesh, which wage war against your soul." – 1 Peter 2:11
Our sins are waging war against our souls! You don't accidentally wage war. You don't just stumble into plotting out the complete and utter destruction of someone else. Arguments can arise in a matter of a few seconds, and battles have been started accidentally before. But waging war on something takes time. It takes intent, strategy, and endurance. It takes purpose and planning.
I'll be the first to admit that I often find myself blindly swinging around in the dark: throwing a pathetic punch here, a useless jab there, and giving little thought to my battle strategy. But that's not what it takes to fight sin. My attempts to fight my sin often make me think of putting my hand on my child's head as he swings with all he has to get his arms around my legs. Even though we are simply playing a game, the point still stands. Instead of coming up with a plan to catch me by surprise or get my hands occupied first, he comes at me with all his will and emotions and hopes that he has enough to achieve his goal.
Many times we are my son in that scenario; swinging blindly at our sin, which puts us on the responsive side of war. We find ourselves confessing to the Lord when we've given into the passions of the flesh, and admitting our desire to turn away from it. Yet, how often do we find ourselves returning back to our sin, wondering what went wrong?
That's not how I want to go about handling my sanctification, and I often feel the Holy Spirit prompting me to do more than what I currently am. Jesus dying on the cross was absolutely intentional, and I'm certainly not responding with the conviction that intentionality deserves. If you're anything like me, you are in the same boat.
Over the past few months I have found a helpful tool in my sanctification: journaling. I'm not talking about the "dear diary" type of journaling, although that may also be found effective. I'm talking about journaling that has a specific purpose: to grow you in your walk with Christ. I have found it to be an effective tool for myself, and I believe journaling could be an effective tool for you as well. With that in mind, here are four suggestions on how to use a journal in your process of sanctification.
1. Your Journal as a Sin-Tracker
I've lost almost forty pounds over the last three years. It hasn't always been easy. One of the things that has motivated me and encouraged me was a graph that tracked my weight over the past three years. Every week or so, I entered my weight into my Fitbit weight tracker and could observe my overall progress. Even when I had difficult weeks, I was encouraged by my overall weight loss, which kept me going. It helped me turn a potential fall into a slight stumble.
If I keep a graph to record the amount of body fat I've lost, why can't I keep a record of the amount of sin that has been stripped from me? There is an end-goal in mind when it comes to battling sin. That goal is giving in zero times a week, a month, a year, or a decade. If you are having trouble seeing the progress of the Lord bringing you from one degree of glory to another (2 Corinthians 3:18), then write it down. Draw a graph and keep it in the front of your journal. It will not only keep you motivated, but will also give the Lord the glory that He is due for your sanctification.
2. Your Journal as a Sin-Dissector
Use your journal to dissect the sin and tear it apart from every angle. Ask yourself: Why do I keep giving into that sin? What entices me about it? When do I commit it? What are the triggers in my life that are causing it?
Don't forget that the Lord wants to reveal your sin to you. His will is your sanctification (1 Thessalonians 4:3). If you're having trouble evaluating the sin in your life, ask the Lord. We often overlook that very important step. I have often found that asking the question "why" helps me get to the bottom of my sin. Here's an example:
Sin: Easy anger towards my kids. Why? Their actions. Why? They aren't listening to me. Why does that upset me? I like controlling their behavior. Why? I like control. Why? I value my ability to control greater than God's ability. Why? Arrogance.
Do you see how my journaling led me to the understanding that my over-anger towards my kids was actually a lack of trust in God's control, and ultimately a sin of arrogance? This little example took time. It didn't just come in three minutes, but it was time well spent. Use your journal to dissect your sin.
3. Your Journal as a Sin-Confessor
"If we confess our sins, He is faithful and just to forgive us our sins and to cleanse us from all unrighteousness." – 1 John 1:9
Write prayers in your journal that confess your sins. This forces us to go deeper and spend quality time being intentional. That's what heart work requires. Take intentional time to repent and confess your sin. Your heart should break for your sin, because God's certainly does.
Use scripture to confess it. Find scripture that acknowledges your sin and write it out. Then say, "God, I'm doing this. I'm so sorry for giving in to this. I'm so sorry for committing this against you."
Take a few minutes and write out some of Psalm 51. Let the Lord hear your brokenness in your sin and rejoice in the forgiveness He's given you. I pray your journal would be a record of what you have confessed to the Lord so that you may see His faithfulness in it all the more.
4. Your Journal as a Sin-Preventer
If you've been using your journal to track your sin, to dissect it, and to confess it, then you're certainly going to notice patterns arising. Be intentional with that. Write out a plan to avoid the triggers of sin. Write out scripture to memorize when sin tempts you. Then show it to your small group or the person who holds you accountable.
You can always use your journal as a prayer journal, a place to keep track of the scripture you're reading, or a place to write out questions to the Lord. These are just some examples of the many ways to use a journal when it comes to your walk with Christ, but it's my prayer that the four things above will get you passionate about using your journal as a tool of sanctification.
Your flesh is waging war against your very soul. It seeks to destroy you. It's being active in its strategy and preparation. Using a journal can help you in this battle. It can help you in your walk with Christ. Your journal can help you become proactive, rather than reactive in your fight against sin. It can help you see God's work in your life through the Spirit and work of Jesus on the cross. It is a tool that can help you rely on the Lord daily. It has helped me, and I pray it helps you as well.