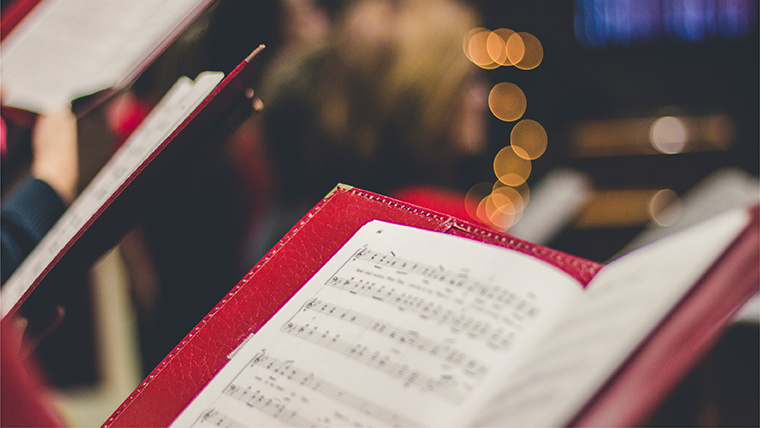 Christmas Means Hope for the Nations
It's that time of year again. Snow is covering the ground, stockings are hanging by the fireplace, neon Santa heads are being projected onto our neighbors' garage doors, and carolers are going from house to house, singing about missions.
Missions? Don't believe me? Here's a sampling of Christmas carols that mention the nations:
"O come desire of nations" (O Come O Come Emmanuel)
"Dear desire of every nation" (Come Thou Long Expected Jesus)
"He rules the world with truth and grace, and makes the nations prove the glories of His righteousness and wonders of His love" (Joy to the World)
"Joyful all ye nations rise" (Hark the Herald Angels Sing)
"Make my wish come true, all I want for Christmas is God's glory to be spread to the nations" (Mariah Carey – All I Want for Christmas)
Ok, so I may have taken some creative liberty with that last one, but the truth is that the nations feature prominently in many classic Christmas carols. Why is that?
Simeon's Prayer
Luke 2:25 introduces us to an old man named Simeon. The Bible doesn't tell us anything about Simeon except that he was a righteous man who had been promised by the Spirit that he would see the Messiah in his lifetime.
When that day finally came, Simeon took Jesus into his arms and prayed this:
Lord, now you are letting your servant depart in peace, according to your word; for my eyes have seen your salvation that you have prepared in the presence of all peoples, a light for revelation to the Gentiles, and for glory to your people Israel.
Don't miss how amazing this is. Simeon was a Jewish man holding the Jewish Savior in his arms; he had been waiting his whole life for this very moment. And when he spoke, he said that this baby would be "a light for revelation to the Gentiles" as well as glory to Israel. The reason Israel ultimately rejected their Messiah is because they expected Him to be their political savior. But Simeon recognized that Jesus would bring hope to both Jews and Gentiles.
So Jesus would be a light for Gentiles. What does that have to do with missions?
A Quick Greek Lesson
To answer that, we need to do a quick Greek lesson. In the New Testament, whenever you read the word "nations" or "Gentiles" (and sometimes "people"), it is a translation of the Greek word "ethne" (pronounced 'eth-nay', the root of the English word "ethnicity"). And when it's translated "nation," it doesn't mean a nation in the political sense, but rather a "people group;" groups of people who have distinct languages and cultures.
That's the word that Simeon uses in Luke 2. Jesus would be the light for the "ethne" to know the one true God. The God of Abraham, Isaac, and Jacob is the God of the nations as well, and where Israel failed to be the light to the nations, Jesus would succeed. God desires worshipers from every people group; Revelation 7:9 says there will be "a vast multitude from every nation, tribe, people and language" standing before the throne of the Lamb. Because Jesus came, the "ethne" can know the true God.
Joy to the World
In Acts 26:17-18 we actually see Simeon's words begin to be fulfilled. Talking about his conversion, Paul specifically says that he was sent to the Gentiles—the "ethne,"—"that they may turn from darkness to light," picking up on the exact same language Simeon used. As a missionary, Paul knew that he was called to bring the Gospel to the nations.
And that's our call as well. In the Great Commission in Matthew 28, Jesus says to "Go and make disciples of all 'ethne.'" Our call is not just to make disciples, but to make disciples of all nations.
Jesus' birth is joy to the world in the truest sense. His perfect life, death, and resurrection have made a way for all who believe to be forgiven of their sin and reconciled to a Holy God. But unfortunately right now it's only joy to some of the world, because many people have never heard the Gospel.
This is what Christmas has to do with missions. Jesus would be a light to the "ethne," but many "ethne" have never seen the light because nobody has gone to tell them. Our call as believers is to make disciples of all nations, bringing the good news of the gospel to those who have never heard.
This can seem like a daunting task, but there is actually much you can do to help spread the Gospel to the nations. Here are some things you and your family can do this Christmas:
Pray for the nations: Go to joshuaproject.net and pray for the unreached people group of the day. Pray that they would turn from idols and worship the true Creator. Pray that the Lord would send people to tell them the Good News. You can even incorporate this into your family's advent reading.
Pray for missionaries: Pray for those who have given their lives to preach to those who have never heard about the Good News of Jesus. You can find a list of our missionary partners here.
Give to missionaries: God uses those who go and those who send to reach the nations. Be a sender and give to God's task. Click here for information about how to give to our partners.
So, when you hear a Christmas song that mentions the nations, remember the hope that has come into the world because of Christ, and pray that the Lord would use you to help fulfill His Great Commission to make disciples of all nations.
---
Have questions about missions? Want more ideas about how you can support missionaries? Interested in learning about becoming a missionary yourself? Email Pastor Mike at .